You can read the Catholic Bible online
It is easy to find a Catholic Bible online. You'll find more than one version available.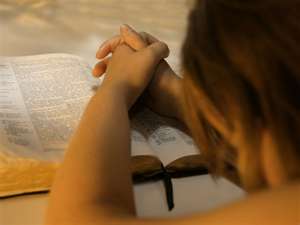 Read the gospels and allow God to whisper in your mind and in your heart words that can have a profound effect on the way you think and act. (Cardinal Hume)
The important questions, "Why am I here?", "What would Jesus have me do?" and "What happens after I die?" are hardly ever asked. And our world has no answers.
Christians need to base their lives on the teachings of Jesus Christ. Reading the Bible will tell them what Jesus wants them to do.
Reading the Bible will help the reader be happier and closer to Jesus.

Why you need to read the Bible

Read and pray God's Word at home

---
At the end of the sixteenth century the Church provided an English translation called the Douay-Rheims version.
It was used in English-speaking Roman Catholic churches up to the middle of the twentieth century.
Today, The New American Bible, Revised Edition is the first new Catholic bible in 40 years.


Custom Search
Make time to read the Bible
If you are serious about having a better life and really knowing Jesus, then read the Bible each day.

Start with Mathew's Gospel and move on to the rest. A recommended order is: Gospels, Book of Acts, Epistles of Paul, Psalms, and Proverbs. Read and reflect. Consider these pages as God's letters to you.
Before your reading, pray "Holy Spirit, help me to understand Your Word."
End by asking yourself: "What have I learned? Is there something in my life that needs to change?" and "What does God want me to do?"

Read the Bible in a year

Douay-Rheims Bible + Challoner Notes

The New Jerusalem Bible (NJB) is a Catholic translation of the Bible published in 1985. The New Jerusalem Bible (NJB) has become the most widely used Roman Catholic Bible outside of the United States.

New American Bible





The 10 Commandments

Return from Catholic Bible Online to Home Page