You can read the Catholic Bible online
It is easy to find a Catholic Bible online. You'll find more than one version available. Here is a list of approved versions.
Read the gospels and allow God to whisper in your mind and in your heart words that can have a profound effect on the way you think and act.
(Cardinal Hume)
---
The important questions, "Why am I here?", "What would Jesus have me do?" and "What happens after I die?" are hardly ever asked. And our world has no answers.
Christians need to base their lives on the teachings of Jesus Christ. An enjoyable way to pray and read a Bible passage each day is to subscribe to A Sacred Space.
The Bible has about 775,000 words. The average adult reads 250 words per minute. That means if you read the Bible for just 10 minutes per day, you can easily read it in a year!

Here is where to read the Bible online

If you prefer to listen--at home or in the car--Dr. Bill Creasy's audiobook is highly recommended

---
At the end of the sixteenth century the Church provided an English translation called the Douay-Rheims Bible. It was used in English-speaking Roman Catholic churches up to the middle of the twentieth century.

The New Jerusalem Bible (NJB) is a Catholic translation of the Bible published in 1985. The New Jerusalem Bible (NJB) has become the most widely used Roman Catholic Bible outside of the United States.

Today, the New American Bible, Revised Edition, is the first new Catholic bible in 40 years.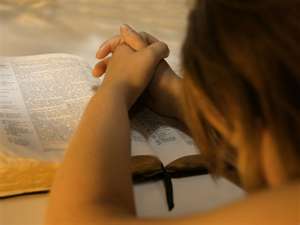 Make time to read the Bible
If you are serious about having a better life and really knowing Jesus, then read the Bible each day. Follow Christ through the Gospels.

Before your reading, pray "Holy Spirit, help me to understand Your Word."
End by asking yourself: "What have I learned? Is there something in my life that needs to change?" and "What does God want me to do?"

If you want to make a daily habit of spending some quiet time reflecting on a Scripture passage, this 3 minute retreat will make a difference in your life.

---
Children and the Bible
Keep a family Bible in your home. Children need to see you read it and hear you read it to them.
Encourage your children to ask questions about the life of Jesus Christ. If children learn who Jesus is, how He died for them, what the Bible teaches, then they will make the right decisions.

The 10 Commandments

Return from Catholic Bible Online to Home Page