Devotions to Jesus, Mary and Joseph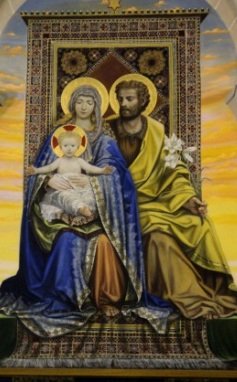 Devotions praise and thank God and draw us closer to Him. We become more aware of God's majesty, His power and His love for us.
---
Devotion to the Holy Name of Jesus
And this is his commandment, that we should believe in the Name of his Son Jesus Christ: and love one another, as He hath given commandment unto us. (I John 3:23)
---
Divine Mercy Chaplet (Devotion to the Seven Sorrows of Jesus) is based on the revelations that Jesus gave to Sister Faustina, who was born in Poland in 1905. Pope John Paul II declared her a saint on the first Sunday after Easter, April 18, 1993, in St. Peter's Square in Rome.

---
Devotion to the Holy Face of Jesus is based on the revelations to Sister Pierina, a holy nun who died in 1945. The purpose of this devotion is to make reparation for the many insults Jesus suffered in the Passion.
Devotion to the Blessed Virgin Mary is based on the desire of Christians to acknowledge and praise the Mother of God for the wonderful blessings and honors God has given her.
---
Devotion to Saint Joseph who is the patron saint of carpenters, fathers, social justice, those who are dying, and the universal church. If you have a problem in any of these areas, then ask Saint Joseph for his help.


Return from Devotions to Home Page


Custom Search