Rosary prayer online
Are there worries in your life? Do you need help?
Join a priest and parishioners to pray the rosary online now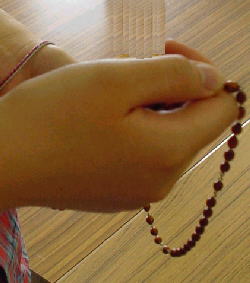 Pray the rosary... follow the words in English and other languages
---
We say the rosary to help us remember principal events or mysteries in Christ's life on earth and to praise God for them.
You do not have to be a Catholic. If you do not have Rosary beads, you can count with your fingers. But counting beads frees your mind to help you meditate.

There are twenty mysteries reflected upon in the Rosary. They are divided into the five Joyful Mysteries, the five Luminous Mysteries, the five Sorrowful Mysteries, and the five Glorious Mysteries.

"There is no problem, I tell you… no matter how difficult it is… that we cannot resolve by the prayer of the rosary."
(spoken by Our Lady of Fatima to Sister Lucy)
John Paul II said the rosary every night before sleep.

How to pray the rosary NEXT >

Return from Rosary Prayer Online to Home Page