Roman Catholic prayers
These basic Roman Catholic prayers help you throughout your life.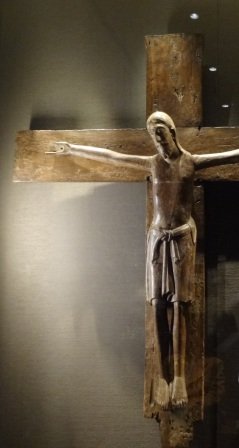 Sign of the Cross
The Sign of the Cross is a prayer:
In the name of the Father and of the Son and of the Holy Spirit. Amen.
In nómine Patris et Fílii et Spíritus Sancti. Amen.
The Glory Be
Glory be to the Father and to the Son and to The Holy Spirit. As it was in the beginning, is now and ever shall be. World without end. Amen
---
Our Father
Our Father who art in heaven,
Hallowed be thy name.

Thy kingdom come. Thy will be done,
On earth as it is in heaven.

Give us this day our daily bread;

And forgive us our debts,
As we also have forgiven our debtors;

And lead us not into temptation,
But deliver us from evil.
Hail Mary
Hail Mary, full of grace, the Lord is with thee.
Blessed art thou among women,
and blessed is the fruit of thy womb, Jesus.
Holy Mary, Mother of God, pray for us sinners,
now, and at the hour of our death. Amen
---
The Jesus Prayer
Lord Jesus Christ, Son of the living God, have mercy on me, a sinner.
Repeating this prayer gives great comfort to those who have lost their way. This simple prayer helps us focus on Jesus and his merciful love.
---
Suscipe (Take)
Take, Lord, and receive all my liberty, my memory, my understanding, and my entire will. All I have and call my own. You have given all to me. To you, Lord, I return it. Everything is yours; do with it what you will. Give me only your love and your grace; that is enough for me.
(St. Ignatius of Loyola)
---
A prayer of contrition
My God I am truly sorry for having offended You Who are so good and so deserving of all my love.
I am determined with Your help to confess my sins, to change my life and to follow You. Amen


The Act of Contrition

is usually associated with the Sacrament of Confession, but everyday Roman Catholic prayers should include it.
In it, we acknowledge our sins, ask God for forgiveness, and express our desire to repent.
---
Prayer to Saint Jude
Saint Jude, cousin of Jesus, apostle and martyr; the Church honors and prays to you as the patron of hopeless cases and desperate situations.
We ask you to intercede with God for our present needs. Come to my assistance in this great need, that I may receive the help of heaven in all my necessities, tribulations and sufferings: especially (make your request).
If it is God's will, pray that we may patiently accept our trials, disappointments and sufferings as a way of sharing in the sufferings of Christ. We trust that our prayers will be answered through your intercession. Saint Jude, pray for us.
More catholic prayers >

Return from Roman Catholic Prayers to Home Page


Custom Search