Praying to Mary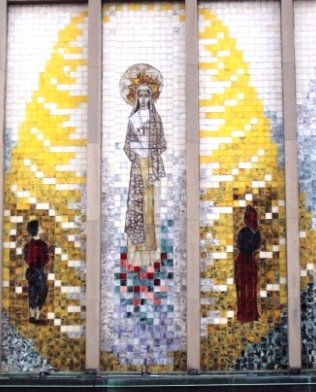 When you are praying to Mary you are asking her to intercede with Almighty God. He is the source of every grace and the final end of all our devotions.
As the earthly mother of Jesus, Mary is filled with Christ's presence. Praise and thanksgiving offered to Mary is really praise and thanksgiving offered to Jesus.
Praying to Mary does not lessen Christ's essential role as Mediator, for every prayer to Mary is based on the mediation of her Son.
Consider Mary as your prayer partner. Then experience for yourself how prayers to Mary, the Mother of God, bring you closer to Jesus.
If you feel depressed during your day, say this simple prayer of Blessed Mother Teresa...   Mary, Mother of Jesus, please be a mother to me now.  
---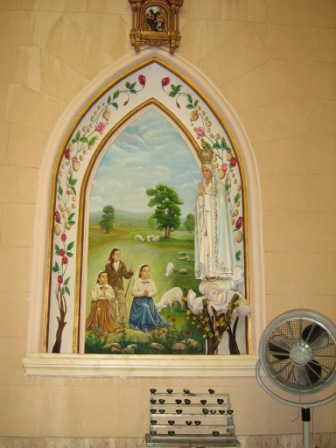 ---
Go through Mary. There is nothing that matters more to a mother's heart than having her children get along! If you want a stronger connection to Jesus, go through Mary. She never gets tired of interceding, and He cannot deny her! (Edith Stein)

---
Mary, Mother of the Preborn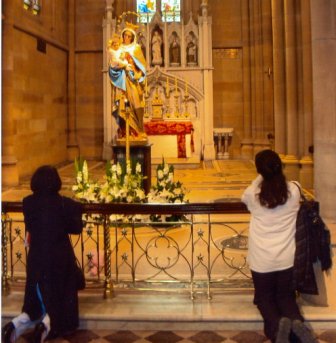 ---
O Father in Heaven, Thou art the Creator of life.
Protect all expectant mothers and the babies they carry in their wombs.

We pray that those who suffer from the evils of abortion will be open to Thine Infinite mercy and love.
We ask for the conversion of all who fail to respect the gift of human life.
Heavenly Father, guide our actions to help restore in the hearts of all people the sanctity of human life. Amen.
Dr. Bernard Nathanson... Rest in Peace
---
Memorare

Remember, O most gracious Virgin Mary that never was it known that any one who fled to your protection, implored your help or sought your intercession, was left unaided.

Inspired with this confidence, I fly unto you, O Virgin of virgins, my Mother. To you I come; before you I stand sinful and sorrowful.

O Mother of the Word Incarnate, despise not my petitions, but in your mercy hear and answer them. Amen
Never Failing
O never failing protection of Christians, and their ever present advocate before the Creator, turn not away from the prayers of us sinners, but in your goodness extend your help to us, who call upon you with faith.
Hasten, O Mother of God, to intercede for us, for you always protect those who honor you.
Hail Holy Queen NEXT >

Return from Praying to Mary to Home Page