What is prayer?
What is prayer?
Prayer is communicating with God... using words, thoughts or actions (such as making the sign of the cross, or lighting a candle).
Prayer is the raising of the heart and the mind to God. There is an internal awareness of the presence of God. God exists not only outside us, but also inside.
Prayer connects you to God
It is not a one-way conversation.
You talk to God... and God talks to you by changing the way you think and feel about things.
Many people think God is not interested in their problems. But if we are to find the happiness that God wants us to have, we need a prayer life.

Each time you pray you may want to
Praise God and thank Him for all His blessings
Express your love for Him and ask forgiveness for your failures
Speak to God about the problems in your life and in the lives of others
Ask for His help to live a life pleasing to Him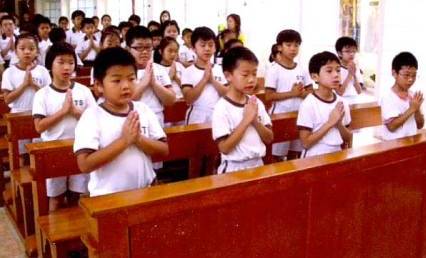 Children pray at St Anne's School in Hong Kong

The Lord's Prayer, the Our Father, is a prayer pleasing to God. It begins with 'Our Father'. Clearly God considers us to be His children. And children can always go to their Father for help...and their loving Father will help them. Sadly, many troubled people don't think to ask their Father to help them.
Jesus answers your prayers
Followers of Jesus know from personal experience that their prayers are answered. They do not always get what they want... but they always receive what is best for them.
Jesus taught the need for persistence in asking. Read Luke 11:5. At midnight, a man tries to borrow 3 loaves of bread from his sleeping neighbor. Persistence in asking was needed to have the neighbor get up and give the bread.
To have your prayers answered, be persistent. Believe that Jesus hears your prayers and that He can and will help you... so pray and Jesus will answer you.
Ask in prayer and it will be given, seek and you will find, knock and the door will be opened. (Matthew 7:7-8) 
3 truths about prayer
From Deep Calls to Deep: Going Further in Prayer
by David Foster OSB
We need to pray
Prayer needs to be a priority in your life. You need to pray each day to have a close relationship with Jesus.
We learn to pray by praying
You just need to start praying. Prayer is something that comes from keeping company with God. You learn to be loved by God and to accept His grace and mercy.
Prayer involves effort
Prayer is a gift which God gives freely to those who seek it. But you still have to work with Him to receive that gift.
PRAY ALWAYS AND EVERYWHERE (Saint Ignatius Loyola)
Quiet Time NEXT>

Return from What is Prayer to Home Page