The Church
You are Peter and upon this rock

I will build my church. (Matthew 16:18}
Jesus spoke to His disciples after the resurrection
"Go and teach all nations, baptizing them in the name of the Father and of the Son and of the Holy Spirit. Teach them to observe all things that I have commanded you: and behold I am with you all days even to the consummation of the world" (Mark 16:15).
From Christ's words it is evident that He intended to establish a church that would proclaim His teachings until the end of the world. It is the means for us to grow in knowledge and love of God.

Peter denied knowing Jesus... Judas betrayed Him... most others deserted Him... and we have all sinned. There have always been dissensions and scandals... yet millions of Christians have remained faithful.
The divine element of this church is holy... but its members on earth are still striving with God's help to become holy.

Pope Benedict prayed for the Church in Ireland in 2010

"The Church is the community, that in spite of human failings, guards the memory of Jesus Christ for each new moment of history."
Father Michael Gallagher S.J.
---
The secular press often overlooks the contributions of the Church to education, science, philosophy and art.
Thousands of schools including universities were founded by the Church. Countless hospitals and homes for the poor and elderly were established by religious orders.
The Church builds and operates schools and hospitals throughout the world to help the poor and the sick. The Church had sisters and doctors working with the suffering and the dying before the rest of the world acknowledged the seriousness of the HIV problem in Africa.
The self-sacrifice of countless priests, sisters, brothers, and generous Catholic lay people have helped to make our world a better place.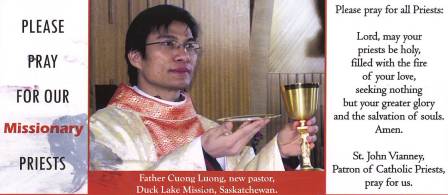 Our church's teachings embody a deep respect for the dignity of every person, including the elderly and the unborn. The guarantee of right guidance is assured by Christ's promise to send the Holy Spirit to guide His church.
The Church started 2000 years ago welcomes everyone who seeks to follow Jesus Christ. Contact your local Catholic church for information on their free RCIA inquiry program.
RCIA is the Rite of Christian Initiation for Adults that started in the first century. As people wanted to become Christians, they would be instructed in the catacombs to avoid persecution (where we get our word Catechumen). At the completion of the instruction, Catechumens would enter the Church with a "laying of hands" by the apostles.
In 1966 at the conclusion of Vatican II, our church fathers reinstated this education process for those interested in joining the Catholic Church.

Share your Faith NEXT >

Return from The Church to Home Page