The vision of Sister Faustina
In 1931, Sister Faustina Kowalska saw a vision of Jesus with rays of light streaming from the area of His Heart. He told her to have an image painted to represent this vision and to sign it, "Jesus I trust in You!"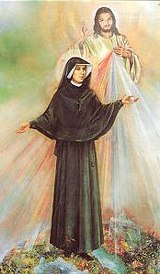 Christ told Sister Faustina, a young Polish nun, about the following seven sorrows that deeply troubled His Heart.

Christ told her to write a diary so others would come to know and trust in Him.
In a series of revelations He taught her that His mercy is unlimited and available even to the greatest sinners.
Christ wanted us to meditate on these sorrows as a way of deepening our love for Him. 

The Seven Sorrows of Jesus
Choose a week (seven days) and meditate each day on one of these sorrows.

The First Sorrow. Jesus is being forgotten and abandoned by the vast majority of humanity, including Christians. Jesus said to Sister Faustina,
"My heart overflows with great mercy for souls, and especially for poor sinners. For them I dwell in the tabernacle as King of Mercy. I desire to bestow My graces upon souls, but they do not want to accept them. My Heart drinks only of the ingratitude and of the forgetfulness of souls living in the world. They have time for everything, but they have no time to come to Me for graces.
"See I have left My heavenly throne to become united with you souls.
"In return for My blessings, I get ingratitude. In return for My love, I get forgetfulness and indifference. My Heart cannot bear this."
The Second Sorrow. Jesus in the Eucharist is being received in a great hurry and with indifference. The Lord says:
"But I want to tell you that eternal life must begin already here on earth through Holy Communion. Each Holy Communion makes you more capable of communing with God throughout eternity.
"It pains Me very much when religious souls receive the Sacrament of Love merely out of habit. I find neither faith nor love in their hearts. I go to such souls with such reluctance. It would be better if they did not receive Me."
The Third Sorrow. Those in the religious life who receive Jesus in the Eucharist in sin.
"The infidelity of a soul chosen by Me wounds My heart most painfully. Such infidelities are swords, which pierce My Heart. The great sins of the world are superficial wounds on My Heart, but the sins of a chosen soul pierce My Heart through and through. My daughter, I want to rest in your heart, because many souls have thrown Me out of their hearts. I experienced sorrow unto death."
The Fourth Sorrow. Both Christians and non-Christians are explaining away the real presence of Jesus in the Holy Eucharist. Jesus moaned:
"Oh how painful it is to Me that souls seldom unite themselves to Me in Holy Communion. I wait for souls and they are indifferent toward Me. I love them tenderly and sincerely and they distrust Me. I want to lavish My blessings on them and they do not want to accept them. They treat Me as a dead object, whereas My Heart is full of love and mercy."
The Fifth Sorrow. Jesus is abused by people in the religious life by their ingratitude. Jesus told Sister Faustina:
"Ingratitude in return for so many blessings is My Heart's constant food. Their love is lukewarm and My Heart cannot bear it; these souls force Me to reject them. This distrust of My goodness hurts Me very much. They use My graces to offend Me."
The Sixth Sorrow. Jesus is received without true love and devotion by chosen souls.
"Souls without love and without devotion, souls full of egoism and self love, souls full of pride and arrogance, souls full of deceit and hypocrisy. There is neither penance nor atonement. O heart, which received in the morning, and at noon, is all-ablaze with hatred against Me, hatred of all sorts. O heart chosen by Me, were you chosen for this, to give Me more pain?"
The Seventh Sorrow. Jesus sees priceless souls perishing.
"There are souls who despise My blessings as well as all My proofs of My love. They do not wish to hear My call, but proceed into the abyss of hell. The loss of these souls plunges Me into deadly sorrow. God though I am, I cannot help such a soul because it scorns Me. Having a free will, it can spurn Me or love Me. The prayer most pleasing to Me is prayer for the conversion of sinners."
---
The Divine Mercy Prayer
Eternal Father, I offer You the Body and Blood, Soul and Divinity of Your dearly beloved Son, Our Lord Jesus Christ, in atonement for our sins and those of the whole world. For the sake of His sorrowful Passion, have mercy on us and on the whole world. Holy God, Holy Mighty One, Holy Immortal One, have mercy on us and on the whole world.

---
Pope John Paul II canonized Sister Faustina in recognition of her holy life on April 30, 2000
---
Divine Mercy Novena video for the 9 days
---
Chaplet of Divine Mercy NEXT >

Return from Sister Faustina to Devotions

Home Page