Mother Teresa of Calcutta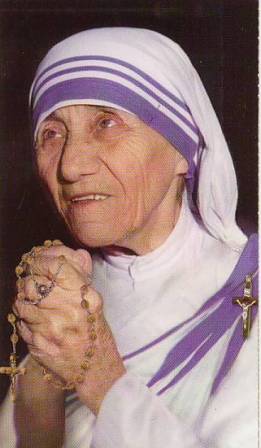 ---
Mother Teresa of Calcutta is now Saint Teresa of Calcutta. She was declared a saint on September 4, 2016. Her feast day is the day of her death--September 5th.

Many know that Mother Teresa of Calcutta loved and cared for the destitute and dying in the streets of Calcutta.
What is not widely known is why she would leave a comfortable life to care for people society considers "throw-away people."

On a train to Darjeeling India in 1946
Jesus spoke to her. He said, "I thirst," …words He spoke from the Cross.
He told Sister Teresa that His thirst was not for water, but for people to love Him and to be loved by Him.
He asked her to reveal His thirst to the poorest of the poor. She was to show by works of caring that the poor were loved by God.
From the writings of Mother Teresa