Prayer to the saints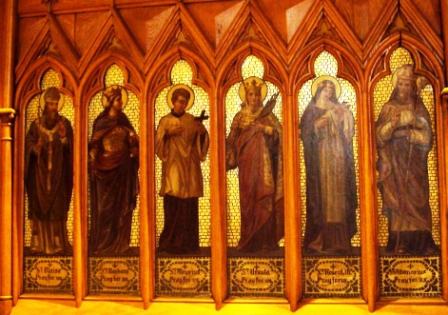 Prayer to the saints is not worship of them. We pray with saints, not to them.
People often ask others to pray for them.
Since saints are close to God in heaven, we ask them to speak to God on our behalf.
Their prayers are powerful before God.
Prayer to Saint Dymphna for Hope
Good St. Dymphna, you placed all your hope in Christ's promises, and sacrificed even your life in that hope. The Lord, God, rewarded your constancy by making your name known and loved over many centuries by the thousands whom you have aided in time of difficulty. Please assist us now in our present necessity, and intercede before God for our intentions. Obtain for us a firm hope like your own in God's unfailing protection. Amen.


Saint Jude
St. Jude, glorious Apostle, faithful servant and friend of Jesus, the name of the traitor has caused you to be forgotten by many, but the true Church invokes you universally as the Patron of things despaired of; pray for me, that finally I may receive the consolations and the succor of Heaven in all my necessities, tribulations, and sufferings, particularly (here make your request), and that I may bless God with the Elect throughout Eternity. Amen.
Saint Anthony, Consoler of the Afflicted
Dear St. Anthony, comforting the sorrowful is a Christian duty and a work of mercy. By word, attitude, and deed I should try to brighten their days and make their burden easier to bear. St. Anthony, Consoler of the Afflicted, may I remember when helping someone in sorrow that I am helping Christ Himself. Kindly mention my pressing needs to Him. (Name your special intentions).
Prayer to Saint Joseph for Success in Work
Glorious St. Joseph,
model of all those who are devoted to labour,
obtain for me the grace to work conscientiously,
putting the call of duty above my many sins;
to work with thankfulness and joy,
considering it an honour to employ and develop,
by means of labour,
the gifts received from God;
to work with order,
peace, prudence and patience,
never surrendering to weariness or difficulties;
to work, above all,
with purity of intention,
and with detachment from self,
having always death before my eyes
and the account which I must render of time lost,
of talents wasted,
of good omitted,
of vain complacency in success
so fatal to the work of God.
All for Jesus,
all for Mary,
all after thy example,
O Patriarch Joseph.
Such shall be my motto in life and death.
Amen.

More prayers to saints NEXT >

Return from Prayer to the Saints to Home Page


Custom Search