Prayers for the dead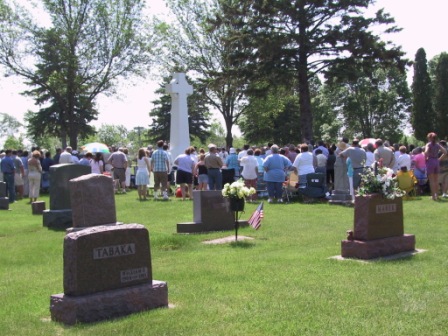 John Paul II told us: "It is an important duty of ours to pray for the dead because although they may have died in grace and in friendship with God, they may still be in need of a last purification in order to enter into the joy of heaven.
"Prayer for the souls of the dead can be expressed in various ways, including a visit to the cemetery. Going to these sacred places provides an auspicious occasion to reflect on the meaning of earthly life and to nourish, at the same time, hope in the blessed eternity of paradise."
---
Our Catholic Church prayers and our own prayers can be recited to help the deceased gain Heaven. The Church teaches, "It is a holy and wholesome thought to pray for the dead."
When I visit the graves of my father and mother, I usually repeat the Our Father, Hail Mary and the Glory Be, followed by words of thanks for their past love and care. Then I briefly share with them my problems and those of my family and friends. I also like to recount some of the happy times we shared. Before saying good bye, I ask them to pray for me and for my family and friends who need Jesus. 

If you can't visit the grave, remember them in your prayers. For those who believe in the resurrection and who struggle to follow Christ's teaching, be happy...
for "Eye hath not seen, nor ear heard what God has promised to those Who love Him."   
---
O loving God
I pray you to welcome my deceased family, friends, loved ones into heaven with you. Forgive them their sins and reward them their goodness. Grant that I may be with them again in your Peaceful presence. Amen.
O God our Father
Creator of all the living, we entrust to Your gentle care all those we love who have gone before us; and have gone to their rest in the hope of rising again. Holy Mary, Mother of God, pray for us sinners, now and at the hour of our death. Amen.


Return from For the Dead to A Prayer Book

Home Page