Lonely people
Mother Teresa said this about lonely people:
Loneliness and the feeling of being unwanted is the most terrible poverty.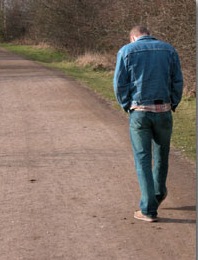 Do you often feel alone or that you don't belong? Do you wonder why you have few friends or why hardly anyone calls you?
All of us need loving people in our lives. Usually they are friends or family members.
Knowing that you are loved and considered important by one or more persons can ease your loneliness. You need to believe that "I am somebody," and "I am worthy of being loved". 
Jesus Christ is our one true friend
Trust Jesus to help you get through your loneliness. He loves you and will answer your prayers for help. Others may desert you, but Jesus will never leave you.

All Alone
Have you ever tried to bear your burdens
All alone? All alone?
Don't you know there's One Who waits to help you,
Who will make all your burdens His own?
When I have burdens to bear which no one can share,
I take them to Jesus, the Man of Calvary;

When I have crosses to bear, my Savior is there,
And always takes the heavy end,
and gives the light to me.
(C. Austin Myles)

Use your loneliness to meet people
If you try something you have always wanted to do, you will likely meet people who are interesting and interested in you. Sign up for music or dance lessons; join a church group; volunteer.

Use your loneliness to seek God
Loneliness is often God's way of telling us to spend some time alone with Him. Quiet Time is the meeting place.
Reflect on a time when Jesus was lonely. You can find examples in Mathew, Mark, Luke or John (the Last Supper, the Garden of Gethsemane, Jesus nailed to a cross).
Read the Bible for 10 minutes a day and you will be less lonely.
Tell Jesus of your loneliness. He will understand and help you. And thank Jesus for loving you.
Pray the Our Father. "Father" and "Thy will be done" are words that connect you to God.
Many lonely people also find help by saying the Rosary and praying the Sacred Heart Devotion.
---
Loneliness may be the cross that Jesus asks you to carry
Loneliness from a broken relationship
Get rid of hurtful reminders
Put on a brave face and keep busy
Turn to prayer to get through this difficult period
"The one thing in life you can't afford is to feel sorry for yourself."
(Father Kerr, a Catholic priest who became blind)


The loneliness of a sick person
Many people of all ages are in hospitals and nursing homes. Days and nights can be very long for them. A wonderful gift is an e-reader with the Bible downloaded and ready to read.
A CD or DVD player with discs can lift the spirits of a person in a retirement or nursing home. A prayer book with large print makes it easy for them to ask Jesus for His help.

The loneliness of an older person
People are now living much longer... into their 80s and 90s... causing an increase in the number of lonely people. Many have outlived their married partner and some have even outlived their children.
Many people in retirement and nursing homes find it helps to pray. They can go to Jesus at any time and ask for His help.                                            
Comeaside.com makes praying the rosary on-line a happy experience. People also find real comfort in the Devotion to the Sacred Heart of Jesus. These prayers speak to the needs of every lonely person.
Lonely people need to know that when they meet with Jesus Christ in Quiet Time, He will chase away their loneliness.
I am your God and will take care of you until you are old and your hair is gray. I made you and will care for you.
(Isaiah 46:4)
Seniors can also be greatly helped by attending Mass and taking part in Church activities. Here are other suggestions for seniors.


Why me? NEXT >

Return from Lonely People to Home Page