Getting better
Getting better means:
You stop the excuses
You take responsiblity for the damage your addiction has done
You take action to repair the damage
You make use of a support network such as Alcoholics Anonymous
After taking an honest look at your life, you've asked yourself, "Is this where I want to be?"
You need self-discipline.
You've learned to avoid the people and places that were part of your addictive behavior.
You plan each day in advance so you don't drift into dangerous situations out of boredom.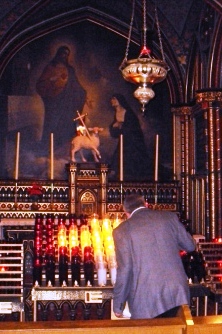 You are making a real effort to have Jesus Christ in your life

You now realize that Jesus Christ is your higher power. All that is needed is to search for Him in Quiet Time and allow Him into your life.
Live life... one day at a time..."The only defeat in life is to abandon the struggle." (James Alberione)


Receive Today's Gift a daily e-mail meditation
Staying clean NEXT>

From Getting Better to Serenity Prayer

Home Page


Custom Search